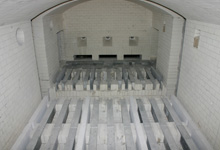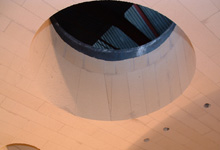 Making refractory linings that are exposed to high temperatures requires a professional approach and expertise. Careful selection of the optimum materials for any given process is crucial. Therefore, we maintain a close partnership with technicians at companies that manufacture refractory lining materials.
The life of a refractory lining and the quality of heat insulation greatly depend on strict compliance with building procedures. We ensure that by having an appropriately skilled team. Refractory linings in our industrial furnaces are constructed in-house. We use both state-of-the-art refractory heat-insulating materials as well as traditional methods.
Our team can remove and build new linings for existing furnaces for customers in Hungary and abroad. On request, we can make the necessary calculations and take care of procurement.
We can also line furnaces that have been made by third party manufacturers (either foreign or local).