Servicing and Maintenance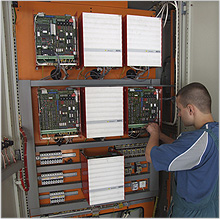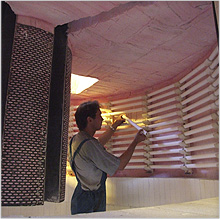 INDUSTRIAL ELECTRONICS
Repair of PLCs and PCs, digitalisation of analogue systems, installation of data logging, replacement of temperature controllers, replacement of thermocouples, repair of electronic power control systems, repair of controls, installation of data capture systems for industrial furnaces and other equipment.
AIR HANDLING SYSTEMS FOR FURNACES
Replacement, repair and truing of combustion air fans, flue gas fans, circulation fans; installing process input and output connections.
MECHANICAL REPAIRS
Repair of roller conveyors, batch cars, gearboxes, chains, tensioners, gearwheels, moving gears and furnace doors (i.e. all the mechanical work related to industrial furnaces).
FIRING EQUIPMENT
Repair of natural gas, propane gas and oil burners, firing process surveys including interlock testing and Level I and II reporting, repair of process burners, repair of flame guards, repair of ionisation and ignition electrodes, repair of 'gas safety sections', rapid procurement of parts, replacement of solenoid valves, pressure regulators, ratio controllers and pressure gauges, proposals for modifications/upgrades, documenting of and obtaining licences for modifications Repair and replacement of radiant tubes.
ELECTRICAL HEATING SYSTEMS
Repair, calculation, manufacturing and replacement of spiral heating elements for any type of equipment, repair, manufacturing and replacement of terminals, repair of induction units, cleaning of cooling circuit, repair and, if necessary, calculating, manufacturing and replacement of faulty inductors, repair of top rammed inductors, including the manufacturing of ramming templates.
PROTECTIVE ATMOSPHERE SYSTEMS
Repair and installation of methanol, ammonia, acetone, nitrogen and other process systems Replacement of rotameters, flow metres, pressure switches and pressure transmitters Repair and upgrade of measuring systems.
REPAIR OF REFRACTORY LINING
Repair and replacement of fireclay and other lining, repair and replacement of sliding floor linings, side linings and furnace bottom, repair and replacement of opening frames and door frames, repair of chain cases, repair and replacement of ceramic fibre, insulation waste produced during insulation is handled and disposed of as hazardous waste (i.e. all furnace insulation that is removed is collected and stockpiled before being transported from the site).
STEEL STRUCTURE REPAIRS
Repair and manufacture of heat resistant steel components, retorts, charge holders and rotary drums, repair and manufacture of stainless and acid-proof steel parts and systems, repair and re-manufacture of steel structure components, manufacturing of ramming templates, repair and manufacture of muffles and air baffles.
REPAIR AND MAINTENANCE OF VACUUM EQUIPMENT
Replacement of heating elements, replacement of heat treating chamber, repair and replacement of mechanical parts and gas baffles, repair of high performance axial cooling, fan inspection and repair of measuring systems, testing and repair of vacuum capability, testing and repair of vacuum leakage, supply and replacement of O-rings and gaskets, maintenance of vacuum pumps, periodical oil change, repair of vacuum pumps (including removal, transport, installation and commissioning), testing and calibration of vacuum gauges.