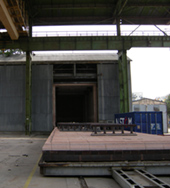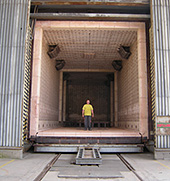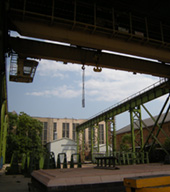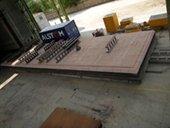 OFU Large Chamber Stress Relieving Truck Furnace
| | |
| --- | --- |
| Main Data: | |
| Manufacturer: | OFU (Ofenbau-Union GmbH) |
| Production year: | 1982 |
| Description: | Truck bottom furnace |
| Batch width, max.: | 5,500 mm |
| Batch height, max.: | 5,500 mm |
| Batch lenght, max.: | 22,000 mm |
| Batch mass, max.: | 100 Tonnen |
| Number of burners: | 32 |
| Power per burner: | 100 KW |
| Total power: | 3.200 KW |
| Heating up rate: | 10 - 60 °C/hour |
| Soak time: | As required |
| Cool-down rate: | 10 - 50 °C/hour |
| Number of temperature zones: | 4 |
| Maximum temperature: | 950 °C |
| Temperature accuracy: | ± 5 °C (in automatic mode, batch-tested) |
| Service Units: | |
| Serving crane: | 100 tons (2 x 50 tons / 12.5 tons) |
| Shot blasting equipment: | 5 m x 5 m x 15 m |
The temperature control for this furnace has a special design as heat treatment can be implemented in both automatic and manual operating modes.
The manual mode is used when measurement results on the contact thermocouples show excessive temperature differences, i.e. more than permissible, during automatic heat treatment control.
Then, the operator can switch to manual mode to be able to freely select heating power input for each zone or even each burner.
In manual control mode, measurement results obtained on each pair of thermocouples indicate a more even temperature actually achieved by the intervention.
The furnace was originally ordered by its first owner, LÁNG Gépgyár, and our company, ANTAL Ipari és Kereskedelmi Kft. (ANTAL Industrial and Sales LLP) has bought it from ALSTOM Hungary, a LÁNG successor that ceased to exist in Hungary in 2011.
Along with the furnace, we have taken over the ALSTOM staff of professionals that is deeply familiar with the equipment, so now it is our company that carries on the Váci Street tradition of stress relieving heat treatment.
We use the equipment primarily for stress relieving heat treatment of high-mass large welded steel structures.
SOME INTERESTING FACTS FROM THE HISTORY OF THE FURNACE
Before 1989: Established in 1868, LÁNG Gépgyár had been manufacturing steam turbines and power plant equipment under licenses of the world's leading manufacturers since 1905 (LÁNG was nationalized in 1948). With extensive production experience, LÁNG Gépgyár was entrusted to produce steel construction equipment for 4 blocks of the first nuclear power plant in Hungary. To implement this project, it was necessary to have a large stress relieving heat treatment equipment in place.
Therefore, LÁNG commissioned an Austria-based company, OFU (Ofenbau-Union GmbH), to design and manufacture, in cooperation with a Hungarian furnace manufacturer, the furnace at issue.
OFU delivered the combustion and control system for the heat treatment equipment, but production and on-site installation of the furnace itself were accomplished by a Hungarian company, KGYV (Kohászati Gyárépítő Vállalat, i.e. Metallurgical Plant Construction Company).
Once commissioned, the furnace was also repaired and maintained by KGYV.
After 1989:
Of the above-mentioned Hungarian market operators, LÁNG Gépgyár was privatized in 1990, and its latest owner, ALSTOM, closed down production in the factory in 2011.
Following the liquidation of KGYV (1991), professionals of our company, ANTAL Ipari és Kereskedelmi Kft., continued to provide maintenance and, over the past few years, operation support for the furnace.
After closing down production in Hungary, ALSTOM commissioned our company to demolish the furnace at issue. Finally, after multiple consultations, we have concluded to buy the furnace, instead of pulling it down, and continue to operate it at the original location.
Actually, we were sorry for having this unique sized stress relieving heat treatment equipment destructed as there is large enough potential market demand for stress relieving heat treatment in such a huge furnace.
So now, we are offering our partners the annealing and stress relieving heat treatment capacities of this furnace capable of accommodating large-dimension and high-mass pieces.
Site of heat treatment: H-1138 Budapest, Váci út 152-156.
For our contact details, refer to our site's 'Contact' option.
Again, we are ready to offer you our heat treatment capacities. Please, do not hesitate to contact us!