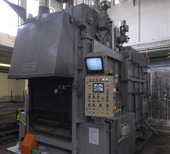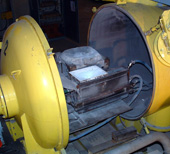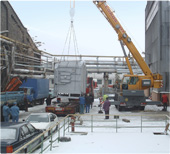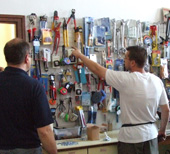 We have, since the early 1990s, been manufacturing customised industrial furnaces, some of which are also installed abroad. A steady growth has been achieved over the years through continuously modernising processes, developing products and using state-of-the-art materials and technology. To maintain and improve quality, our processes have been certified for the ISO 9001:2000 standard. We are also certified for the welding standards EWF, EN, ISO 3834-3 and DIN 18800-7.
Our products are designed and manufactured to our customers' individual requirements and are primarily used by automotive suppliers, hardening shops and bearing manufacturers. Our range includes multi-purpose box ovens, pit furnaces, bell furnaces, car bottom furnaces, roller conveyor ovens and tunnel ovens with electrical or gas fired heating, even in protective atmosphere designs, and up to a maximum operating temperature of 1600°C. We can repair, maintain and renew/upgrade all such furnaces and other heat treatment equipment, all while providing continuous technical support.
We have English, German and Romanian speakers on our staff to receive existing and future customers enquiries on, and purchase orders for, our products and semi-products.
As the complexity of the design, manufacture, assembly and maintenance of furnaces requires diverse and extensive expertise, we have qualified staff to carry out the following activities:
dismantling, relocating and commissioning used equipment and machinery
adapting furnaces from third party suppliers for use in Hungary including installation (supervision of the installation with professional support) and the obtaining of permits and licences
designing and manufacturing flue gas and other exhaust systems
steel structure fabrication, civil works, mechanical engineering, design and manufacture of gas-fired and electrical thermal process equipment and obtaining licences for the same
welding by certified welders; manufacture of vessels
constructing heat-resistant, acid-proof, alkali-proof and stainless systems; designing and installing fire-proof and heat-resistant insulations
transport, installation and assembly of machinery