Tunnel Oven for Annealing Bearing Rings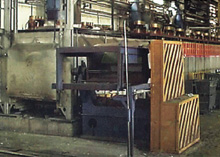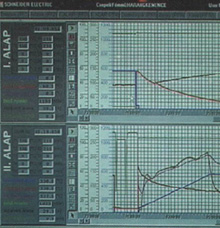 FEATURES

| | |
| --- | --- |
| Heating Method: | electric resistance heating |
| Chamber Dimensions: | 800 x 800 x 25.000 mm |
| Max. Operating Temperature: | 950 °C |
| Thermal Insulation: | ceramic fibres combined with fireclay lining |
| Controls: | PLC, industrial PC, with an automatic cycle |
| Data Logging: | Industrial computer with comprehensive data logging |
| Heat Treatment Process: | annealing bearing rings after forging |
DESCRIPTION
This is a directly heated tunnel oven that is designed for continuous operation and cars (i.e. a car bottom) of a high load capacity to move the charge through 5 heating zones. Each zone has a fan to ensure improved heat transfer. The batches of products are put in baskets to be placed on the cars. The cars are then gradually moved through the different temperature zones from the inlet to the outlet of the oven.
APPLICATIONS
Stress-relief annealing of mass-produced parts, machine components and structures made of alloyed and non-alloyed steel.
BUYING CRITERIA
Dimensions and weight of products, annealing temperature, temperature accuracy requirement, other process parameters (heating-up and cooling times, etc.).
The two ovens had to be designed, manufactured and installed in lieu of the client's old ovens, while the existing rails and carriages had to remain in place and be renewed with the same functionality.

Click here to download the product sheet (pdf)
For the latest version of the free Adobe Acrobat Reader® to view the pdf click here.