Methanol Dosing Equipment, MNA 20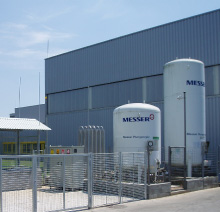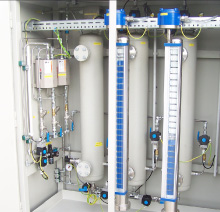 FEATURES
| | |
| --- | --- |
| Voltage: | Connection: 1 × 230 V, 50 Hz; Cont.: 24 V DC |
| Nitrogen Connection Pressure | Min.: 3 bar, max.: 15 bar |
| Nominal Unit Volume | 20 litres |
| Max. Operating Pressure | 1-2 bar |
| Controls | fully automatic, PLC controls |
DESCRIPTION
This nitrogen blanketed methanol dosing equipment provides for the reliable and accurate supply of small doses (2 to 20 litres per hour) of methanol at a constant pressure and without using a motor or any moving parts. This solution eliminates the considerable problems and resulting downtimes that are caused by the mechanical (pumped) dosing of methanol at a rate of 2 to 20 litres/hour. The equipment comprises two nitrogen-blanketed tanks, in which the system is capable of automatically swapping over from one to the other. Empty tanks are refilled by diaphragm pumps. The pressure within the tank is continuously maintained by the nitrogen blanket over the methanol surface. The equipment is fire certified and has a design that is compliant with the European directives and standards. Prior to the installation of such methanol storage and dosing equipment, a walk-over survey should be completed in order to thoroughly assess the fire safety and to define the optimum location for the dosing unit.
APPLICATION
Methanol decomposes at the operating temperature of the furnace. Carbon monoxide, as one of the decomposition products, causes carburisation. An accurate dosage of methanol ensures that carbon is always diffused into the steel surface in the required quantities (coating thickness) and the heat-treating process is run according to the metallurgical process design.
BUYING CRITERIA
The use of a dosing equipment is required because of the carburisation process and the process of creating a carbon atmosphere to prevent decarbonisation during heat treatment.

Click here to download the product sheet (pdf)
For the latest version of the free Adobe Acrobat Reader® to view the pdf click here.