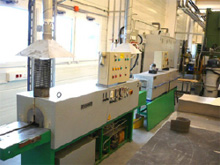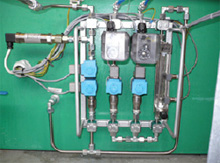 DESCRIPTION
In a flat bed conveyor oven, the charge is moved on a continuous-surface conveyor belt through a protective gas or active gas atmosphere (or sometimes an oxidative atmosphere). It is either electrically heated (directly or indirectly) or natural gas fired (directly or indirectly). The charge can be placed directly on the belt without a charge holder. Applications include blank annealing and hardening. For blank annealing, a forming gas of a composition of 25 per cent of nitrogen and 75 per cent of hydrogen is used. This gas is generated by the dissolution of ammonia.
APPLICATION
Flat bed conveyor ovens are chiefly used in mass goods production where small-size, light metal parts need to be heat treated. Applications include fastener manufacturing, household appliance parts manufacturing, etc.
BUYING CRITERIA
Process objective, heat treating temperature and temperature accuracy, a time/temperature curve of the heat treating process, dimensions and weight of products, method of loading and unloading, the loading and unloading equipment required, protective atmosphere requirements, heat treatment capacity requirement (kg/h), oven operating hours, heating method requirements (gas or electrical), etc.
The oven shown in the photo was manufactured by Kohnle and was standardised and adapted for use in Hungary by Antal Kft.

Click here to download the product sheet (pdf)
For the latest version of the free Adobe Acrobat Reader® to view the pdf click here.