Drying and Cross-Linkage Oven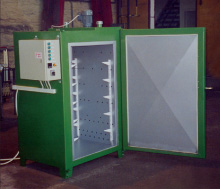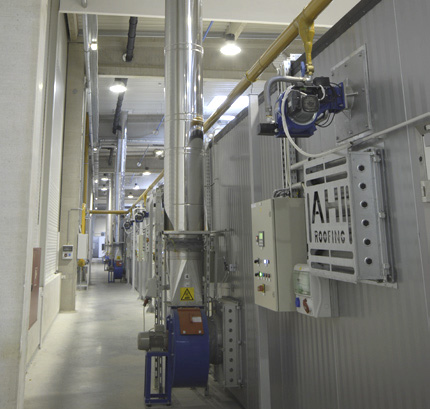 FEATURES
| | |
| --- | --- |
| Heating Method | electric resistance heating |
| Power: | 6 kW |
| Chamber Dimensions: | 800 x 1200 x 800 mm |
| Max. Operating Temperature: | 120 °C |
| Temperature Accuracy in an Oven Chamber | ± 1 °C |
| Batch Weight | 20 kg |
| Thermal Insulation: | 90 kg/m3 rock wool |
|  Controls: | PLC and solid state relays, OMRON temperature control |
| Application: | mainly drying parts for the electrical industry |
DESCRIPTION
This oven is similar in design to box ovens with direct electrical heating, the differences being a much lower operating temperature and much more stringent temperature accuracy requirements. An oven is normally categorised as a drying oven (drying stove) up to a temperature of 150°C. A powerful fan is used to force air in and out and to ensure air circulation for even heat distribution. A vacuum application is also possible to remove gas pockets from synthetic resin. First, a vacuum is created without the fan operating, which is then followed by air being let in and convective heating.
APPLICATION
Drying, curing of, and promoting, cross linkage of the resin filler in synthetic resin-bonded bobbins that are used in the electrical industry (power supply units, transformers, motor rotors, etc.).
BUYING CRITERIA
Drying and cross bonding temperature and heat requirements, temperature accuracy requirement, other process parameters (heating-up time, airflow rate, etc.).

Click here to download the product sheet (pdf)
For the latest version of the free Adobe Acrobat Reader® to view the pdf click here.