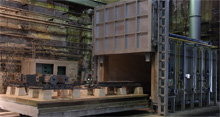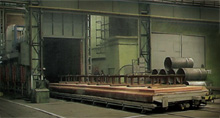 FEATURES
| | |
| --- | --- |
| Heating Method: | natural gas firing, direct |
| Power: | 2500 kW |
| Chamber Dimensions: | 3000 x 3000 x 12000 |
| Max. Operating Temperature: | 850 °C |
| Temperature Accuracy in Oven Chamber: | ±3 °C |
| Batch Weight: | 35000 kg |
DESCRIPTION
This is a box furnace with a car bottom of a high loading capacity that can be moved independently and relatively far away from the furnace. When out of the furnace, the car bottom is loaded by a crane, manipulator or manually. The use of a car bottom furnace is particularly advantageous in buildings with an overhead crane.
APPLICATION
Annealing and stress relieving of large-size heavy parts (e.g. for power plants) and steel structures made of alloyed or non-alloyed steel.
BUYING CRITERIA
Dimensions and weight of products, temperature, heat treating temperature, temperature accuracy requirement, other process parameters (heating-up and cooling times, etc.).

Click here to download the product sheet (pdf)
For the latest version of the free Adobe Acrobat Reader® to view the pdf click here.