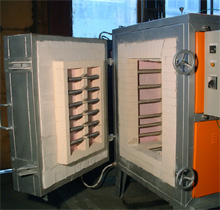 DESCRIPTION
Box ovens are designed for intermittent operation and can be used for most applications with oxidative, protective or active atmospheres. They can be used flexibly for process experiments and one-off heat treatment, as well as the entire spectrum of heat-treating processes for all industries. The method of heating can be that of electrical resistance heating, direct or indirect, or of natural gas firing, direct or indirect. Box oven doors can be operated mechanically or manually. After the end of each heat-treating cycle, the oven chamber is emptied and a new charge is put in. Box ovens are used from 40°C to 3000°C, depending on the temperature scale and other general requirements. We can manufacture ovens up to 1600°C.
Box ovens can be used nearly for any applications and processes. Although very flexible, box ovens are not always satisfactory in terms of productivity, which must be taken into account when selection is being made.
BUYING CRITERIA
Temperature requirements, dimensions and weight of products, method of loading and unloading, the loading and unloading equipment required, heat treatment capacity requirement (kg/h), oven operating hours, etc.

Click here to download the product sheet (pdf)
For the latest version of the free Adobe Acrobat Reader® to view the pdf click here.