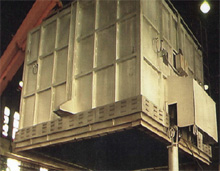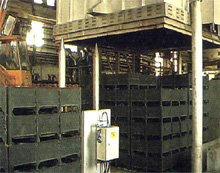 FEATURES
| | |
| --- | --- |
| Heating Method: | electric resistance heating |
| Voltage: | 3 x 400 V, 50 Hz |
| Power: | 400 kW |
| Chamber Dimensions: | 3000 x 3000 x 2500 mm |
| Max. Operating Temperature | 900 °C |
| Batch Weight: | 20000 kg |
| Thermal Insulation: | ceramic fibres |
| Controls: | PLC, industrial PC, with comprehensive data logging |
| Heat Treatment Process: | high-accuracy annealing of bearing rings (without a protective atmosphere) |
DESCRIPTION
This is a directly heated heat-treating furnace that is designed for intermittent operation and with a rectangular chamber and floor-level loading. The elevator platforming top hat has ceramic fibre insulation and is fitted with electric resistance heating and a very powerful circulation and cooling fan for ensuring even heat transfer to the charge. Products to be heat-treated are placed in a basket before being put in the hearth by means of an overhead crane. When the loading is complete, the top hat is lowered to enclose the furnace space. After the heat treatment process, the top hat is raised and the batch is removed.
APPLICATION
Annealing and normalisation of the products of various sizes mass-produced by the iron and steel industry.
BUYING CRITERIA
Dimensions, quantities and weight of products, the required heat treatment process and its target parameter.

Click here to download the product sheet (pdf)
For the latest version of the free Adobe Acrobat Reader® to view the pdf click here.