Rotary Drum Furnace with Indirect Heating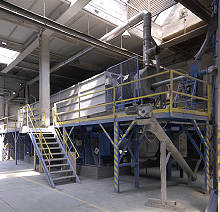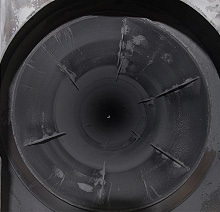 FEATURES
| | |
| --- | --- |
| Heating Method: | Electrical resistance heating |
| Voltage: | 3 x 400 V, 50 Hz |
| Power: | 200 kW |
| Chamber Dimensions: | Ø 800 x 13.000 mm |
| Max. Operating Temperature: | 750 °C |
| Thermal Insulation: | ceramic fibres |
| Controls: | Fully automatic, PLC and PC, thyristor power control |
| Heat Treatment Process: | Continuous data logging on PC in-process heat treatment of silicon-carbide powder |
DESCRIPTION
The furnace chamber is a rotating drum made of refractory steel and is inclined towards the discharge end. The drum revolves inside a thermally insulated chamber fitted with electrical heaters to produce heat energy. Heating is indirect because it is the external surface of the refractory steel drum that is heated directly and the heat is transferred by conduction to the charge in the furnace.
APPLICATIONS
Raw material processing.

Click here to download the product sheet (pdf)
For the latest version of the free Adobe Acrobat Reader® to view the pdf click here.