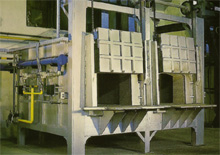 FEATURES
| | |
| --- | --- |
| Heating Method: | natural gas firing, direct; controllable gravity exhaust of flue gases |
| Power: | 2 x 500 kW |
| Chamber Dimensions: | 1100 x 900 x 1500 mm |
| Max. Operating Temperature: | 1250 °C |
| Batch Weight: | 2 x 300 kg |
| Thermal Insulation: | arched refractory fireclay lining, wear-resistant bottom lining |
| Controls: | programmable HAGA temperature controllers, Kromschröder burners and flame guards |
| Application: | heating of copper alloy billets prior to forging |
DESCRIPTION
Robust yet stylish, this furnace was designed and built based on the client's concept. It has a fully automatic firing system that can be started at a push of a button on the operator panel. Venting, ignition and temperature adjustments are performed automatically. The doors are mechanically operated. The required heating programme can be selected easily by the corresponding programme number that is entered.
APPLICATION
Preheating to the required temperature of the copper billets that were previously specially alloyed in a vacuum melting furnace, prior to forging to a smaller diameter.
BUYING CRITERIA
Handling by a crane and special tools, multiple temperature programmes, ease and speed of operation.

Click here to download the product sheet (pdf)
For the latest version of the free Adobe Acrobat Reader® to view the pdf click here.